Auto Paint Repair & Refinishing in Manchester, CT
Vernon Collision Center is one of the auto body repair shops in Manchester, CT, you can trust. Our 20+ years of service speak for themselves, and our satisfied customers close the case on our reliability. We're the only logical choice if you need collision repairs after an accident or want to give your car a refreshed look.
Call Now
These are three reasons you should reach out to us and speak with one of our auto paint refinishing experts without hesitation:
Collision Repair and Refinishing Specialists
Our facility's technicians are not just automotive collision workers; they're specialists. These individuals have undergone extensive training to obtain their collision repair and body work credentials. Therefore, the level of confidence you can have in their work is high. You can trust them to put the finishing touches on your used car or get your damaged car back on track after an unexpected collision.
Our Work Passes Insurance Inspections
The work we do always passes insurance inspections. We work with many insurance companies and are often on the top of their lists when recommending places to go for restorative work. We also offer fair pricing options because we know how stressful it is to worry about getting your car back on track after an accident. You can rely on us to make your vehicular recovery experience pleasant, affordable, and fair.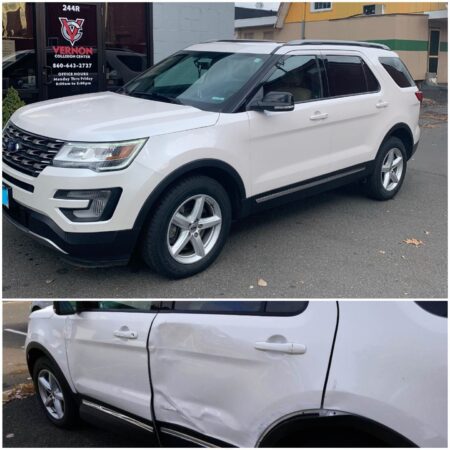 We've Been Assisting Clients for Decades
While many auto collision repair centers are gone with the wind, we've been a longstanding community member for almost 30 years. Thus, we have what it takes to satisfy clients and keep them coming back repeatedly. Part of the reason we do so well is our personalized and customized service. Our locally owned and independent shop treats each person as a family member or close friend. We truly care, and our primary goal is to restore your vehicle's exterior to like-new condition. We want to work with you and manifest your vision for your automobile, so contact us today! Take a moment to contact us and set up a conversation with one of our specialists. It will be the most informative experience you've had in a long time.